Kansas Critical Access Hospital Prevents CAUTI and Decreases Catheter Days
November 29, 2022
Cheyenne County, a 16-bed critical access hospital located in St. Francis, KS has decreased catheter days per patient days in the last year and is currently maintaining a zero rate with Catheter Associated Urinary Tract Infections (CAUTI).

Cheyenne County Memorial recently participated in the HQIC performance improvement cohort based on two CAUTIs identified in 2021. Through comprehensive review of current practices and analysis, inappropriate catheter use was identified as a root cause.
The team implemented solutions which included:
Physician champion and the infection preventionist working together to promote appropriate catheter use, increase staff awareness and provide education
Team completed a policy review and all staff who insert catheters now complete an annual competency for catheter insertion. Goal is 100% compliance by the end of 2022.
A standard protocol was approved by the Chief Medical Officer (CMO) that includes a nursing assessment/action flow sheet that guides the nurse through diagnosis, correct insertion, and alternatives to foley use
Alternative methods implemented such as external female catheters and more scheduled toileting
According to NHSN data, Cheyenne County Memorial is demonstrating a downward trend for CAUTI SIR All Units and is currently maintaining a zero rate. The two CAUTIs in 2021 were COVID patients.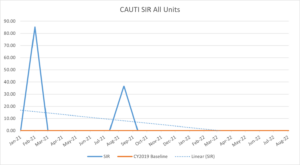 In addition, Catheter Days per Patient Day demonstrates a downward trend from January 2021 through August 2022 and is below the CY2019 baseline. The lowest data point is in August 2022.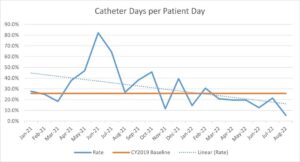 Katie Bunker, RN, Chief Nursing Officer/Infection Prevention complimented the performance improvement advisory services provided by KFMC Health Improvement Partners, a subcontractor of Alliant HQIC. Katie said, "Nadyne has been an amazing resource for coming up with new ways of approaching each subject. Thank you for sharing our success story and I hope we have many more."
Congratulations to the team at Cheyenne County Hospital for their hard work and resiliency to improving patient care by decreasing CAUTI SIR All Units and Catheter Days per Patient Day.
To access other success stories, see the Alliant HQIC website.