Alabama Hospital Improves Process and Outcomes with Critical Assessment Team (CAT)
November 15, 2022
Alabama Hospital Improves Process and Outcomes with Critical Assessment Team (CAT)
Regional Medical Center (RMC) is a 338-bed hospital located in Anniston, AL which lies in the foothills of the Appalachian Mountains, about 60 miles east of Birmingham.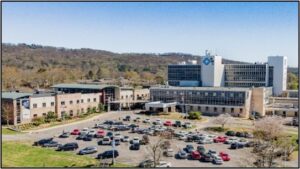 Regional Medical Center (RMC)
The critical response team at Regional Medical Center consisted of an ICU nurse and a Respiratory Therapist who were responsible for stabilizing patients as quickly as possible within 30 minutes of the overhead page. The average time per month was 18.5 hours responding to Code Blues outside of the ICU and 31 hours per month responding to Critical Access Team (CAT) calls while still caring for their own patient load.
In November 2021, RMC recognized the need for early intervention and rolled out a pilot with a proactive approach and their motto "Catch the Spark before the Fire".  A Critical Assessment Team (CAT) was designated and an algorithm provided warning signs for a decompensating patient. Staff were encouraged to call a 4-digit number routed to the CAT cell phone. Other duties of the ICU nurse and Respiratory Therapist included:
Proactively round on patients to review documentation, lab changes and vital sign changes on high acuity patients
Provide critical care support to medical floors such as removing CVLs, hard start IVs and hard stick ABGs
Provide education to staff including features of defibrillator to better document during the code
Mentor floor nurses and respiratory staff
In a six month period, Code Blues decreased approximately 95% and CAT calls decreased approximately 62% (excluding COVID patients) house-wide. In addition, an average of 9.4 hours was spent at the patient bedside. Other key tenets contributing to the success included:
Breaking the stigma of calling for help
Customer service mentality
Overall confidence in patent care with extra support
Alliant HQIC would like to recognize RMC Health System for their continued dedication and commitment to improving patient safety and quality of patient care.