Intermountain Health: Opioid Stewardship Health System Perspective
September 22, 2023
Intermountain Health reduced the number of opioid tablets prescribed to patients in acute pain by 3.8 million in 2018 and nearly 13 million cumulatively through June of 2023, reducing the risk of opioid dependency and misuse in Utah. In the early 2000s, the opioid epidemic hit the state of Utah and saw opioid overdose deaths increasing. By 2016, Intermountain Health reviewed data and determined there was a steady increase in both the number and rate of all drug overdose deaths (top yellow line in the graph) and opioid-specific overdose deaths (bottom yellow line in the graph).  As a health system, Intermountain determined there was an opportunity to reduce opioid addiction and the availability of opioid tablets by focusing on our prescribers' practices within the health system.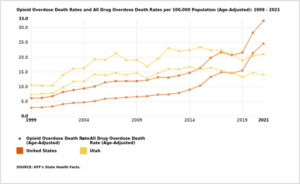 Goals/Objectives:
Intermountain Health started opioid stewardship work in 2016 with a deep review of the available data around opioid prescribing and opioid overdose death count and rates (particularly prescription). It included both state-level and internal system data around opioid prescribing practices. The opioid stewardship goals addressed include:
Reduce the quantity of opioid tablets prescribed by 40% (2017- 2019)
Reduce the co-prescribing of opioids and benzodiazepines by 10% (2018 –2019)
Reduce the potency of opioids prescribed (2020–2021)
Increase naloxone co-prescribing with any opioid prescription (2022 –present)
In addition, Intermountain Health was the first health care organization in Utah to offer formal opioid-free surgery for patients. (More information can be found here.)
Dr. David Hasleton stated in 2019, "We knew these would be lofty goals, and we're encouraged by the reduction in opioid tablets and the success of our other opioid-reduction efforts.  We knew these were the right steps to take.  We're continuing our focus to implement appropriate evidence-based opioid treatments, provide alternative forms of pain control for our patients and educate providers and the public about the safe use of opioid medications."
PLAN:
Intermountain Health developed a team of key behavioral health, physician, community health and other leaders to look at the available data and develop a plan to address and improve opioid stewardship within the health system. They were given the name Opioid Tiger Team (OTT).  This team spearheaded the development of goals and the actions taken to achieve the goals, and is still in existence today.  The team brought together key leaders who could provide valuable insight and effect change. As part of Intermountain Health's commitment to this work, in 2021, 10 of the Intermountain Health critical access and rural facilities partnered with Comagine Health under the CMS-funded Hospital Improvement initiative (prime awardee: Alliant Health).
The Plan, Do, Study, ACT (PDSA) cycle occurred with each of the four goals listed above.
Reduce the quantity of opioid tablets prescribed by 40% (2017 through 2019)
Creation of the OTT, as discussed above
Design and establish a data analytics dashboard and designation of a data analyst for the project
Establishment of data baseline, find target providers and service lines
Educate providers
Change opioid prescription defaults in the electronic health record
Cumulative opioid pills prescribed 2018 – 2023 (to date)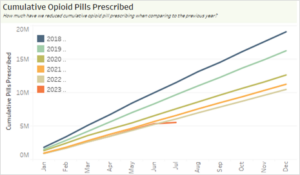 Reduce the co-prescribing of opioids and benzodiazepines by 10% (2018–2019)
Establish baseline performance
Identify low-performing providers and service lines
Educate providers
Implement an electronic health record (EHR) alert
Reduce the potency of opioids >= 90 Morphine Milligram Equivalents (MME)/Day (2020 – 2021)
Provider to patient opioid risk consultation
Provider resources on opioid management and safety
Removal of high MME order sentences from the orders catalog
EHR alert for high MME doses and other risks
Increase naloxone co-prescribing with any opioid prescription (2022–present)
Service line leadership education and buy-in
Provider education tools
Electronic health record changes
DO:
The early implementation phase was to develop and implement provider education for each goal.  The outcomes of the education were measured for impact.
STUDY:
Analysis of data changes showed minimal change in provider prescribing practices from education alone.  Following education, the OTT moved into making changes to the EHR, such as changing the standing order catalog, removing favorites with high pill counts and instituting EHR alerts when certain prescribing thresholds are met.
ACT TO HOLD THE GAINS:
The biggest contributor to the changes Intermountain Health saw in prescribing practices has consistently been when EHR alerts were implemented.  The OTT continues to monitor all four Opioid Stewardship goals and acts to make changes when needed to keep the positive momentum moving forward.