Critical Access Hospital in Utah Implements Plan to Reduce Readmissions
July 7, 2023
As part of the HQIC program, Blue Mountain Hospital, an 11-bed critical access hospital located in Blanding, UT, reviewed their data to establish improvement priorities. The compliance program manager, Cari Spillman, MBAHM, CHCO, CIC, chose to work on reducing readmissions because of the impact on patients and the surrounding community of Blanding. Several gaps in the current processes were identified including an inefficient committee structure and the lack of a designated discharge planner responsible for identifying discharge planning needs, assessing readmission risk, and planning follow-up.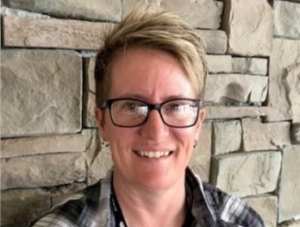 Cari Spillman, MBAHM, CHCO, CIC
During meetings with the Alliant HQIC partner, discharge planning and reporting requirements as well as quality improvement processes defined in the Conditions of Participation were reviewed. The first intervention focused on a complete redesign of the hospital's committee structure. Roles and reporting structures for each group were outlined, and the flow of information throughout the organization clarified to promote effective performance improvement and readmission reduction. The diagram below demonstrates the finalized committee structure.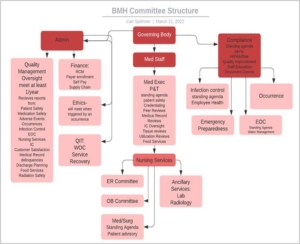 Following implementation of the new structure, Blue Mountain implemented:
Since Blue Mountain is a small critical access hospital, the cost of adding a discharge planning position required evaluation of the return on investment. The quality improvement processes implemented by the compliance manager and reporting of the findings to leadership resulted in the approval of the new position and its implementation in June 2023.
Although Blue Mountain has not yet reached their 5% reduction goal over CY2019 baseline and relative improvement rate (RIR), they are closing the gap. In December of 2022, the RIR was -57% and as of February 2022, the RIR was -6.67% with several months of zero readmissions. With the new committee structure and discharge planner position implemented in June, Cari and her team are confident that the rate will show an overall improvement and meet their goal and RIR by the end of 2023.