Critical Access Hospital in Utah Focuses on Assessment of Social Determinants of Health to Reduce Readmissions
August 3, 2023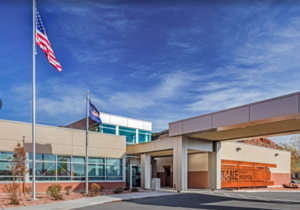 Like many hospitals, Kane County Hospital, a 25-bed critical access hospital located in Kanab, UT experienced an increase in patient readmissions during the COVID-19 pandemic. Chief Nursing Officer Julia Sbragia, DNP, CNS, RN, was hired in 2022 and upon the first meeting with the Alliant HQIC partner, she reviewed the data and established the hospital's improvement priorities. One of the first actions taken was completion of a gap analysis of their current processes surrounding discharge planning and readmission review. As a result, a decision was made to hire an individual who would serve in a dual role including patient education and discharge planning.
Over the course of the next few months, the new discharge planner Nicole Ramirez RN, MSN, worked with the Alliant HIQC partner to identify the requirements for admission risk assessment, assessing health equity and social determinants of health, discharge follow up, and readmission review. Nicole quickly implemented a revised readmission risk admission assessment including assessment of social determinants of health using The PRAPARE Screening Tool – PRAPARE, utilization review based on InterQual criteria, and ongoing discharge planning. She also focused on other elements that impact readmissions like antibiotic utilization review, opioid use disorder, and a new 100% readmission review process based on reports developed in the electronic medical record system.
Nicole is also developing internal educational resources and discussing the potential to implement a diabetic educator position for the Native American population which has a high rate of diabetes. See reference https://healthequity.utah.gov/data-and-reports/.
Kane County Hospital is a small critical access hospital serving approximately 8,000 people in a community in which resources are scarce. The team continues to identify and implement additional community resources such as telehealth services for their patients. As a result of the work of the team, the readmission rate has decreased over time with several months of zero readmissions.