Five Ways to Motivate Long-Term Care Residents and Staff to Get the COVID-19 Vaccine and Booster
March 15, 2022
With the omicron wave almost behind us and the decrease in daily new COVID-19 cases, it may feel like the pandemic is coming to an end. However, experts agree that we are not out of this yet. New COVID-19 variants are still emerging, and the next big wave could be just around the corner.
While U.S. vaccination rates have increased, it varies across the country. Some states have made slower progress than others, and unvaccinated people remain at increased risk for infection, severe illness or death.
To help protect their residents and staff against the next major outbreak, many long-term care facilities are seeking out ways to increase their COVID-19 vaccination and booster rates. Listed below are five strategies that have been proven effective.
1. Provide accurate information in a single location and keep it updated
It's easier to encourage residents and staff to get the COVID-19 vaccine and booster if they have all the facts. With so much misinformation circulating on social media, television and the internet, it's no wonder that some people are nervous. Jeremy Bischoff, a quality improvement initiative advisor at Alliant Health Solutions, recommends that facilities provide residents and staff with the latest COVID-related data and research, along with a list of vaccine locations, to help ensure they have accurate information. The information should be in one place—such as a webpage on the company intranet, an email with several links, or a bulletin board in the building—and updated regularly.
Alliant Health Solutions provides this sample bulletin/communications board to long-term care facilities in the seven states we serve: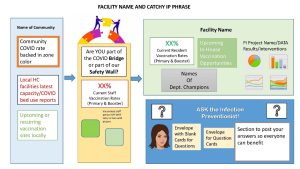 "It's important to continuously re-engage staff and keep the communication boards updated," Bischoff said. "We like to remind our facilities to make sure they are providing the most updated information to residents, their families and staff."
2. Offer incentives and giveaways
A survey of 1,338 nursing homes in the United States found that facilities with high staff vaccination rates offered giveaways to vaccinated staff, such as t-shirts, vaccination card holders, food or other gifts. In addition, the Centers for Disease Control and Prevention (CDC) found evidence that incentives like cash bonuses, paid time off, and gift cards have helped get more people vaccinated.
During a vaccine education webinar on March 9, 2022, Darcy Watson, BSN, LNHA, a quality consultant for Alliant Health Solutions, recommended facilities host what she referred to as "slice and dice" staff meetings. Staff is served a free pizza lunch as they discuss COVID-19 vaccination information together and get their questions answered.
"Have everyone sit down, go through the information, and slice and dice it up," Watson said.
For residents, Watson suggested a vaccine-themed bingo game.
"[Residents] love it," Watson said. "Change BINGO to BOOST. Provide facts about the vaccine and tie it to the quarters or other incentives [facilities] give out for bingo."
In addition, the CDC recommends using incentives to reinforce the message that getting vaccinated and boosted is a collective effort rather than an individual one. For example, facilities could offer incentives to all their staff or residents once the vaccination rate exceeds a specific goal.
3. Follow vaccine clinic best practices
People tend to be more motivated to get vaccinated and boosted when it's convenient for them. Watson said long-term care facilities should offer the COVID-19 vaccine or booster to residents on admission or when they become eligible. In addition, Watson recommends that facilities host vaccination clinics at least every four weeks.
For facilities that still don't have access to the COVID-19 vaccine and booster, Watson provided the following solutions:
4. Create COVID-19 vaccine ambassadors
Residents and staff who have already gotten the COVID-19 vaccine and booster can serve as credible messengers to those still on the fence. The COVID-19 ambassadors can share their experiences through video, photographs or by talking to fellow residents or coworkers. Alliant Health Solutions encourages long-term care facilities to use the "My Why" campaign to build vaccine confidence. The campaign works by recruiting residents and staff to share photos of themselves and why they choose to get vaccinated. The photos and stories can be posted on bulletin boards, company websites and social media. In addition to the "My Why" campaign, Alliant Health Solutions is also training health care workers to use Motivation Interviewing to increase COVID-19 vaccinations.
5. Use a robust communication strategy
Facilities should take a thoughtful and proactive approach to build confidence in COVID-19 vaccines. Communication strategies should reinforce the big picture and outline actions the facility is taking to keep everyone safe. Particular emphasis should be placed on the benefits of protecting staff, residents, their families and the community. Alliant Health Solutions' Give the BOOST a Shot webpage has several messaging and outreach tools that facilities can use, along with inspiring social media graphics.
For more information on how to increase vaccine confidence among staff, including resources and in-depth training, visit the Alliant Health Solutions Give the BOOST a Shot webpage.