Leadership Lesson – April 2022: The Time is Now for Health Equity.
March 30, 2022
Words of advice from leaders on the front lines.
This month's leadership lesson is from Rosa Abraha, MPH, the health equity lead for Alliant Health Solutions.
The Time is Now for Health Equity

"Racism, both structural and interpersonal, are fundamental causes of health inequities, health disparities and disease. The impact of these inequities on the health of Americans is severe, far-reaching, and unacceptable." — Centers for Disease Control and Prevention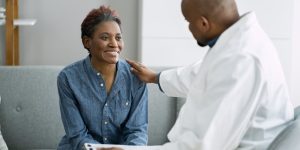 The Centers for Disease Control and Prevention (CDC)'s April 2021 declaration of racism as a serious public health threat prompts a necessary point of reflection for us as a nation: 
Do our governing bodies, our businesses, our schools and our health care system truly

promote anti-racism and address the enduring health disparities impacting our minority communities?

Do our highest levels of leadership mirror the width and depth of the diversity of the communities that we serve?
Are our policies, programs and interventions truly inclusive of the most marginalized and underrepresented in our society?
If not, what gaps remain?
These are the questions that I ask myself daily as the health equity lead at Alliant Health Solutions. The COVID-19 pandemic shed a light on the social, economic and racial injustice and inequity at the forefront of public health. The pandemic revealed the inevitable truth that health equity is still not a reality as racial and ethnic minority groups continue to be unequally burdened by sickness, death, loss of jobs, loss of homes, health illiteracy, food insecurity and more. Recognizing these disparities, we must now move into collective action by creating cultures and systems that promote equity and belonging, especially for the most disenfranchised groups in our society. In health care, we do this by:
Acknowledging and dismantling our internal biases and discriminatory practices as providers and public health practitioners to honor our service to the entire public.
Reshaping our leadership teams to include innovative and thoughtful perspectives from historically marginalized groups, including Black and Brown leaders and women
Moving beyond the silo of health care and engaging with non-traditional public health partners like community coalitions, departments of transportation, schools, faith-based organizations, businesses, professional associations, and other influential social and economic organizations that impact the social determinants of health.
What better month to achieve this change than in April, as we honor the founder of National Minority Health Week, Dr. Booker T. Washington, who, in April 1915, first proposed the observance of National Negro Health Week. Dr. Washington stressed the importance of health as a driver of progress and equity for Black Americans. He sounded the imperative alarm for public health systems and non-traditional public health partners to unite under one mission of increasing awareness of health disparities in Black communities. That observance has grown into what is today a month-long initiative to advance health equity across the country on behalf of all racial and ethnic minorities.
I follow in the footsteps of brilliant servant leaders like Dr. Washington to break down silos that propagate disparities and make health equity a central tenant of all of the work that we do here at Alliant. Therefore, I ask you to join me on Thursday, April 14, from 1-2 p.m. ET as Alliant partners with the American Hospital Association to discuss "Reducing the Health Disparities Gap: A Practical Framework for Promoting Health Equity in Your Hospital." Register here