Six Reasons Why People Are Getting the COVID-19 Booster
March 11, 2022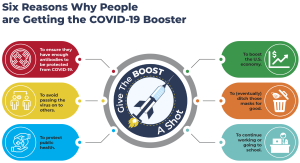 The rollout of COVID-19 vaccines in early 2021 was a significant step towards staying ahead of the virus and keeping people safe. But the work isn't over. Now, everyone who has completed their primary COVID-19 vaccination series is encouraged to get a booster shot. According to the CDC, anyone who received the two-dose Moderna or Pfizer-BioNTech vaccine should get a booster shot at least five months after receiving their second dose. Those who received the Johnson & Johnson vaccine are eligible for a booster after two months.
Why is the booster shot so important? Is it really needed if you're fully vaccinated? Below are six essential reasons why people are choosing to get boosted.
1. To ensure they have enough antibodies to be protected from COVID-19.
Research shows that COVID-19 vaccines are highly effective in reducing the risk of severe disease, hospitalization and death. However, the vaccine's effectiveness is reduced from 88% to 47% after five months, and the chances of getting infected and having complications from the disease go up. People who want to stay safe from COVID-19 are getting boosted to remind their immune systems to produce enough antibodies again to be protected. "One of the most compelling things behind getting a booster is the added protection," said Jeremy Bischoff, quality improvement initiative advisor for Alliant Health Solutions. Bischoff pointed to data from the CDC that shows that nursing home residents who received booster doses are 10 times less likely to contract the disease.
2. To avoid passing the virus on to others.
 As new, more contagious strains of the coronavirus emerge, vaccinated people can still get a breakthrough case of COVID-19. However, evidence suggests that vaccinated and boosted people recover from the virus faster, thereby making them contagious for only a short time and reducing the odds of transmitting the virus to others. Protecting vulnerable family, friends and coworkers is a major reason why so many people choose to get the booster shot.
3. To protect public health.
Many people are inspired to get a booster shot to help stave off the next big COVID-19 outbreak and give overworked hospital and nursing home staff a much-needed break. People who've been boosted likely won't need to seek healthcare and, if they do get COVID-19, will be able to manage it at home. In addition, the booster shot helps reduce the number of people going to the hospital, thereby saving a spot for someone who needs immediate care and lessening the burden on healthcare workers.
4. To boost the U.S. economy.
The U.S. economy is still recovering from the fallout caused by the COVID-19 pandemic. While employment rates have improved, supply chain problems and rising costs are creating hardships for millions of Americans. The booster shot itself can't turn around the economy, but plenty of people see getting boosted as doing their small part to help keep the economy running.  Getting the booster shot means stopping community spread and preventing illness, which leads to products being delivered to stores and on shelves.
"There's an assumption that people are getting boosted for themselves, but they are actually doing it to keep the economy moving," said Leighann Sauls, Alliant Health Solutions program director Georgia, Kentucky, North Carolina, and Tennessee. "They're doing it for the greater good."
5. To (eventually) ditch those masks for good.
Anyone who wears glasses knows how annoying it is when they start fogging up while wearing a mask. Many states are dropping their mask mandates, but they're still required on trains, planes and buses, and the CDC still recommends wearing them indoors. For people who are tired of wearing a mask, getting the booster shot means they're contributing to efforts to end the need for masks (and see more clearly).
6. To continue working or going to school.
Many employers across the United States are beginning to require their workers to be fully vaccinated and boosted against COVID-19. According to an article published by CNN, a survey of 200 major employers found that 8% are changing their definition of "fully vaccinated" to include booster shots. In addition, some colleges and universities require booster shots for students. For many students and employees, getting the booster shot ensures they can remain at their current jobs or schools.
Don't miss your shot to become a COVID-19 warrior. Visit the Give the BOOST a Shot webpage to register for upcoming educational events and access helpful resources to accelerate vaccination rates in your long-term care facility.