Elbert Memorial Hospital Reduces Hospital-Acquired Infections
May 30, 2023

Elbert Memorial Hospital, a 25-bed critical access hospital in Elberton, GA, set out to reduce healthcare-acquired infections (HAIs) with a goal of 0 infections after an increase in early 2022. The team realized that just one patient contracting an HAI could be detrimental to the whole patient population. They focused on proper handwashing and teaching universal standards to all who encountered patients and their environment. The team followed the Plan-Do-Study-Act model for improvement to reach their goal.
PLAN
The implementation of reduction protocols was driven by the nurses caring for patients.
Included all employees with a heightened focus on direct patient care, such as the nursing staff, including registered nurses, licensed practical nurses, certified nursing assistants, and providers.
The nursing leadership team kept the project at the forefront by sharing hand hygiene compliance results in shift huddles and team meetings with the frontline staff as well as the Quality, Medial Staff and Pharmacy and Therapeutics Committee.
DO
Included staff involvement and training, data collection and education tools.
Education included the importance of proper perineal hygiene, hand hygiene, the correct procedure for specimen collection, and training on appropriate catheter use.
Education through employee newsletters, departmental huddles, and leadership meetings.
Infection control nurse rounded to ensure compliance and to provide further education.
STUDY
The team used data, tables, and charts to explain data collection, measurement, and analysis.
Data was tracked on the Infection Control section of the Quality Dashboard.
Three opportunities for improvements were noted:

Communication with the provider needed improvement. To ensure communication was relayed to the provider, the Infection Control Nurse received all culture results and was responsible for notifying the provider.
The collection timeframe was initially identified as a barrier that needed improvement. Nurses were educated on the importance of the early collection and how this would benefit the patient and facility. Early identification would reduce any delay in treatment.
Education was provided to clinical staff to remind them of the importance of timely specimen collection. To reduce oversight, the admission order set was updated to include a urinalysis.
ACT
Infection Control is the point of contact for follow-up of culture reports.
Admission order set was changed to include a urinalysis.
Standard process for obtaining urine culture was added to clinical orientation and ongoing education.
Work has begun on a sepsis campaign to include risk reduction through continual reassessment and flowchart alerts.
MDRO infections are tracked and reported at the Quality Council Meetings and through NHSN.
Medical Executive Committee and the Board receive quarterly updates on progress and trends.
In the graph below, there is demonstrated improvement from September 2021–July 2022.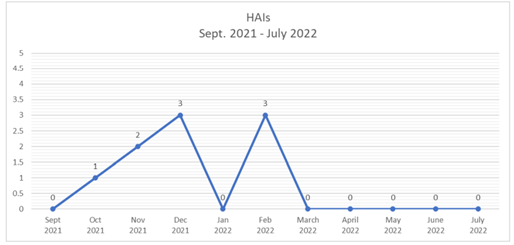 As a result of the dedication and hard work of the team, Elbert Memorial Hospital was awarded second place in the Patient Safety and Quality Awards in the critical access hospital category at the Georgia Hospital Association Summit in January 2023.