Leadership Lesson – June 2022: Listening Is a Key to Performance Improvement
June 1, 2022
Words of advice from leaders on the front lines.
This month's leadership lesson is from Lisa Davies, CPHQ, LNHA, RD, LD, Quality Improvement Manager Alliant QIN-QIO.
Listening Is a Key to Performance Improvement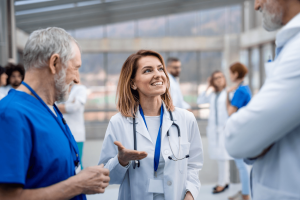 The skill of listening has been the subject of many leadership books, blogs and podcasts. Robert C. Greenleaf describes listening as one of the 10 characteristics of a servant leader, emphasizing the importance of having a deep commitment to intently listing to others.
Quality improvement, and an organization's journey to performance excellence, takes leadership, teamwork and a structured approach to listening. In last month's newsletter, Linda Kluge talked about the "A" in PDSA and how the Act phase is often passed over, which can prevent sustained improvement. This month, I want to go back to the "P" and address how effective listening can set your organization up for success. The planning portion of quality improvement includes:
Identifying the problem.
Investigating the root cause of the problem.
Developing a plan to improve that will resolve the problem.
While opportunities for improvement are often abundant in health care, finding the levers to pull that will have the biggest impact on your customer can be hard to determine. Staff on the front lines are closest to your customers and often recognize early indicators of declining quality. As leaders, we must meet our staff where they are, ask open-ended questions about the process we are investigating, listen to what they are saying and not saying, and acknowledge their contribution to the quality process. Leaders must support a culture of safety by creating an environment where staff feels safe to report errors, near misses or almost errors. We need to listen to what these occurrences might be telling us about gaps in quality of care.
Another form of listening that can be just as important in determining opportunities for improvement and root cause is listening to the story your data is telling. When looking at outcome data reports, you can see past performance, identify performance trends and use the data to predict future performance in areas important to your organization's performance—using the data to make changes and create the story you want to tell.
Planning is only one step in the quality improvement process as your organization embarks on the journey to performance excellence, but it is the foundation of success.
A key ingredient to creating a solid foundation is listening. Listen to identify the problem, listen to what your staff may already know about what contributed to the problem, and listen to your team to create a plan to improve your organization's quality of care.