Leadership Lesson – March 2022: The "New Normal": Post Pandemic Healthcare
February 25, 2022
Words of advice from leaders on the front lines.
This month's leadership lesson is from Tanya Vadala, PharmD, the Behavioral Health Aim Lead for Alliant Health Solutions.
The "New Normal": Post Pandemic Healthcare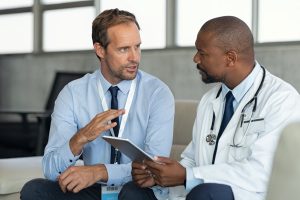 "Alone we can do so little; together we can do so much." – Helen Keller
Positivity and planning are our best resources in finding our way beyond the pandemic. The same strategies that helped us not only survive but thrive during the pandemic can be carried into the post-pandemic era. The world will never be the same again, so why should we expect our practices to be as well? Leadership should take this opportunity to actively seek feedback from their health care workers on how to make the "new normal" far superior to the past.
Here are some suggested questions leadership can ask their health care workers:
What changes made during the pandemic should be continued?
How can leadership best support you and your work?
What additional resources or training do you need?
What types of resources are most helpful (handouts, webinars, short videos, etc.)?
What topics are you interested in learning more about?

As a leader in healthcare quality, Alliant is here to assist you with forging into the "new normal." We have resources and contacts that can aid your transition to the future of healthcare. Whether you need information about transitions of care, adverse drug events, or chronic condition management, we have you covered. Find even more at https://quality.allianthealth.org/.