Leadership Lesson – November 2023: National Family Caregivers Month – Celebrating and Honoring the Contributions of Caregivers
November 1, 2023
Words of advice from leaders on the front lines.
This month's leadership lesson is from Julie Kueker, MBA, BS MT (ASCP), Alliant Health Solutions Program Director for Alabama, Florida and Louisiana.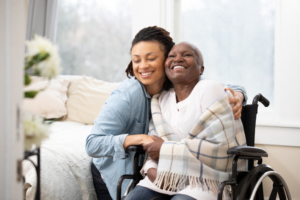 As health care workers, we dedicate years or perhaps decades to improving the lives of the patients we serve. We learned how to interact with our residents, patients and their caregivers. However, what happens when we become the caregiver of a loved one? Are we happy with the outcomes, or does the experience motivate us to create change?
November is National Family Caregivers Month. It is a time to recognize and honor caregivers, raise awareness around caregiving issues, and provide support. Families are often the primary source of support for older adults and people with disabilities. In fact, more than 53 million family caregivers provide unpaid care.
As leaders, we must spread the message that family caregivers should be celebrated and supported. Often, our health care employees are caregivers on two fronts: their patients and their loved ones. Let's start the conversation in our facilities by inviting employees to talk about what caregiving means to them. It is important to share their experiences and hardships. We can also offer an opportunity for the families and caregivers of our residents and patients to share their stories on social media.
To honor what caregivers do every day, visit the National Council on Aging website for celebration ideas, social media posts, educational resources and more. Let's lift up the caregiver's voice in celebration and let them proudly proclaim, "I am a caregiver."