AHS Podcast Episode #42: Highlighting the Social Determinants of Health for ESRD Patients– Part III
December 16, 2021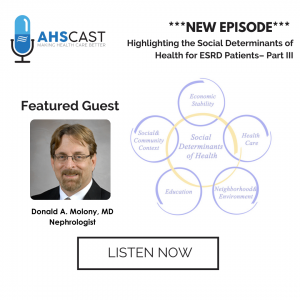 Tune into this week's podcast as we continue the conversation around social determinants of health. Environmental and social factors make it more difficult for many end stage renal disease (ESRD) patients to enjoy healthy lifestyles and get the medical attention, access to care, and support they need.
Join us as Texas-based nephrologist Dr. Donald Molony shares how the social determinants of health impacts end stage renal disease patients and how the ESRD Network 8 and 14's Second Chance Program is enabling patients to receive the care and support they need.
Click 
HERE 
to listen to the podcast.