AHS Podcast Episode 39: Social Determinants of Health and How Alliant is Highlighting its Impact on Healthcare Quality
November 4, 2021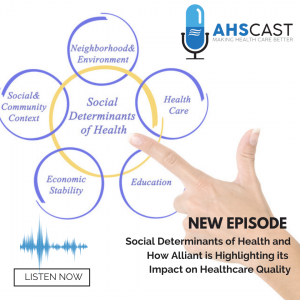 According to the Centers for Disease Control and Prevention (CDC), the social determinants of health (SDOH) are the conditions and environments where people are born, live, learn, work, play, worship, and age that affect a wide range of health, functioning, and quality-of-life outcomes and risks.
Tune into this week's podcast as Alliant's Cortney Batten, LMHC, JoVonn Givens and Dr. Kimberly Rask share how health outcomes are determined and how Alliant's line of work strives to impact those outcomes and support communities that work to provide solutions.
Click HERE to listen to the podcast.